Embodying nature, the MB Original Green bento box helps you recharge at the office during your lunch break.
Dimensions
Product dimensions: L 185 x p 94 x h 100
Capacity: 2×500 ml = 1 L
Components
2 containers, 1 lid (PBT)
2 intermediary lids (PP)
2 caps + seals (Silicone)
1 elastic band (elastane)
1 food cup (PP)
330ml BPA free Tritan plastic bottle
Green Pouch
Two-tiered food compartments, microwave and dishwasher safe …
This lunch box is absolutely perfect for your packed lunches!
SUSTAINABLE
Made from PBT, a high quality plastic known for its durability, the MB Original will go with you on all your adventures. Its robustness will prove a loyal companion to your outdoors eating!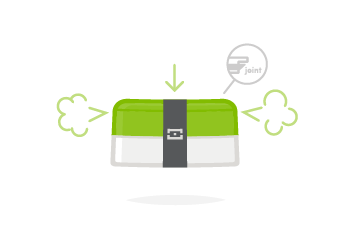 AIRTIGHT
No more dramatic mishaps involving dressings and brand new cream-coloured trousers! Thanks to its internal lid fitted with a silicon hinge, the MB Original is completely airtight. Leaving you to enjoy the tranquillity of a meal perfectly protected inside its lunch box!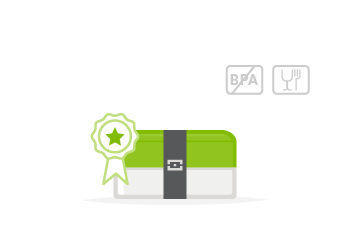 SAFE
BPA-free, the MB Original bento boxes hold all your light meals and snacks without any health risk! They have even gone through the TÜV and SGS laboratories, and passed the LFGB and FDA certifications with flying colours, guaranteeing the high quality of the materials expected of a quality lunch box