Onegreenbottle recently did a stunning limited edition collaboration with designer Freya Roze Richmond. We have bottles and mugs in store from this inspirational designer collection.
The two prints used within the F.ROZE x OGB collaboration were inspired by abstracted floral forms with a touch of graffiti. The conversational, statement patterns are formed through an experimental design process, layering a melting pot of mediums, from spray, gauche and acrylic paints to liquid chalk, and stencil work, to create joy inducing prints designed to enliven everyday products. Richmond's primary source for inspiration is city street art.
"I've always been drawn to street art and graffiti. I love the way different artists overlap and melt together in these expressive works that use a city as its canvas. Graffiti requires a really bold, confident approach to lines and colour, and I try to emulate that in my work."
Freya Roze Richmond, Founder, F.ROZE
Following a first degree in Printed Textile Design for Fashion with Business Studies at Brighton University, Richmond honed her expertise in experimental textile design and manufacturing during a two year tenure as Head of Print for luxury British fashion designer, Richard Quinn. She since has continued to print design for various brands, collaborates on exciting projects and also founded F.ROZE after seeing a gap in the interiors market for luxury designs with a daring, outlandish edge. See more over at www.freyarozeworld.com.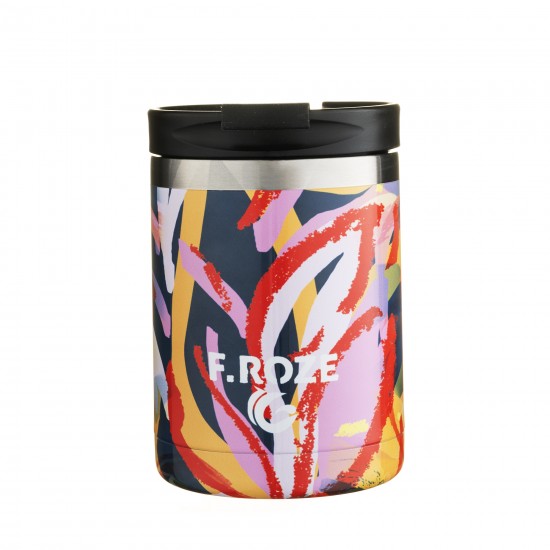 We love how stylish these prints look on our mugs and bottles. These are perfect gift ideas for loved ones, or keep it for yourself and match your outfit to your bottle! It's always great knowing that you are buying an eco friendly product, from a company that does their best to employ best sustainability practices, such as using shipped freight instead of flying products over. And whether you are buying a stylish eco friendly gift, or simply adding to your own collection, you can feel proud to know that you are helping to reclaim 25 single use plastic bottles with every bottle purchase that would otherwise have ended up as ocean waste.
We know you're loving these graffiti inspired mugs as much as we are, let us know if they end up inspiring your own art project!